The William & Mary Symphony Orchestra Board is composed of student members of the orchestra who are responsible for many aspects of the WMSO's administrative and social operation. The Orchestra Board works closely with the Music Director, Dr. Grandis, to create the best possible experience for its members. If you have any questions regarding the governing body of the WMSO, please contact the WMSO Board.
2021-2022 Board Members
President
Theresa Madrigal '23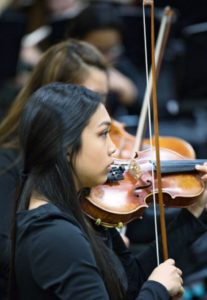 Theresa is a senior violinist in WMSO. Outside of WMSO, she plays the violin in the Gallery Players chamber ensemble and is a sister in Nu Kappa Epsilon Music Sorority. She is an accounting and music major. Some of her favorite things include cookouts with family and friends and rainy nights in her dorm room with snacks and movies. Theresa is looking forward to this coming year of music and service on the WMSO executive board!
---
Vice President
Tiernan Gatsby '24
---
Treasurer

Nash English '25
Hello! My name is Nash English (he/him), and I am the William and Mary Symphony Orchestra Treasurer and tuba player! I am a sophomore majoring in International Relations and Economics, but I have a huge passion for music and all things orchestra. Outside of orchestra, I am the Social Outreach Chair for the Citizens' Climate Lobby – a climate activism organization that pushes for bipartisan climate solutions – and one of the sousaphone players in the William and Mary Pep Band. In my free time, I enjoy practicing tuba, listening to music, reading, and hanging out with my friends. I also love meeting new people, and I hope I get to meet you too! You can contact me at enenglish@wm.edu, or just say hi to me on campus!
---
Publicity Director

Meghan Kirk '24

---
Outreach Coordinator
Ana Berliner '23
Ana is a senior majoring in Sociology and minoring in Chemistry. She is a violinist in WMSO and is also involved in Gallery Players and Appalachian Music Ensemble. Outside of orchestra, Ana enjoys the outdoors, spending time with family and friends, art, and cooking/baking (rumor has it she makes an impeccable Alfredo sauce). WMSO holds a special place in her heart and she looks forward to spending another wonderful year with them!
---
Tour Directors

Ben Neifeld '25
Korinne Young '24
Korinne is a senior majoring in English and music and has been playing the harp for nine years. She loves the chaos of WMSO, and is also in the NKE music sorority and Agape Christian Fellowship. On the side, she freelances as an event harpist and on her YouTube channel Harpistry. This is her second year serving as Tour Director and she is so excited to send WMSO to Prague and Vienna!
---
Social Chairs
Sarah Russell-Hunter '23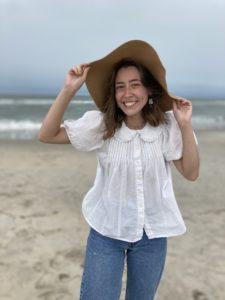 Sarah is a senior double majoring in Music and Allied Health at William & Mary. She has been a violinist in the Symphony since her freshman fall, and has loved every minute of it. Sarah takes lessons with Profs. Susan Via and Tripp Johnson and is also a member of Appalachian Music Ensemble, Gallery Players, The Anacrusis Sextet (under the direction of Prof. Neal Cary), and Project Heal. In her free time, Sarah can be found eating Cookout, crocheting, and breakdancing to Strum by Jessie Montgomery. She is absolutely thrilled to be on board for her final year of WMSO (even though WMSO NEVER STOP).
Aidan Stawasz '24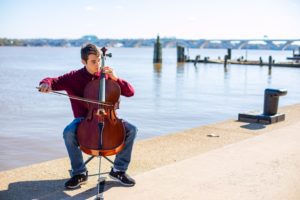 Aidan is a junior at William & Mary studying mathematics and music with a concentration in performance, later pursuing a degree in education. He has been playing the cello for 10 years and plans to teach music after college.
---
Webmaster
Kerris Watson '25
Kerris is a sophomore majoring in Psychology and Sociology. She makes sure this wonderful website stays alive! (And updated.) This is her second year with the Symphony, and she falls more in love with it every rehearsal. When she's not on the roof stargazing, or trying to finish her next art piece, she's proud to be a part of Trippin' On Brix Comedy and Project Heal.
She loves meeting people, and would love to meet you too! Getting in contact with her is as easy as looking for a girl with purple braids on campus. (Or using the email below.)
---